This site was created in 1997 by George Phillips. Phillips was 2nd in the 2-Mile (9:29) in the 1970 NCHSAA State Meet for R.J. Reynolds High School in Winston-Salem. He also placed 2nd in the 1969 NCHSAA Cross-Country State Meet.

He has degrees in Health and Physical Education from Appalachian State University and from the University of Oregon.

In college, he ran cross country and track & field (1970-75), earning App State's most outstanding cross country runner award in 1970, '71 and '74.

In his first career he worked 13 years as a junior high teacher and senior high coach in the Charlotte-Mecklenburg Schools.

Along the way he has helped to coach at Winston-Salem Reynolds HS, and at Independence and Myers Park High Schools in Charlotte.

Outstanding coaches he had the privilege to work with include Norm Trzaskoma (RJ Reynolds), Richard Prince (Myers Park) and Jerryl Todd (Independence).

At age 40 George ventured into a new career, taking classes at Charlotte's Central Piedmont Community College and working in Charlotte as a computer programmer and system analyst.

In 2001 George took a similar job in Durham near the Research Triangle Park. He and wife Vivian lived in Chapel Hill and Carrboro until he retired in 2017. They are currently enjoying retirement and living in Hendersonville.

In 2010 he became the first maintainer of a website covering NC high school sports to win the NCHSAA's "Tim Stevens Media Representative of the Year Award".

In 2019 George was (surprisingly!) inducted into into the inaugural class of the NC High School High School Track & Field/Cross Country Hall of Fame as a Media Representative.

His site began in the 1990's when few folks were on the Internet, mostly using dial-up modems plugged into landline telephone connectors, and thousands started going online using AOL, Yahoo, ..and eventually broadband connections. (George had one of the first Time-Warner accounts in Charlotte.)

NCPrepTrack remains true to its original principles of existing for public use without charging royalties, and being a utopian declaration of collaboration and universal access ... like most of the Internet was back in the '90s.




"The following photo [of s-lightly mediocre quality] was made in Olympic Stadium (Atlanta, 1996) just before Donovan Bailey became the World's Fastest Human. (More on Bailey). If you look *real* carefully... you can see one of my favorite athletes, Jonathan Edwards (more) in the background. The guy in the white shirt? That's me." -- G.P.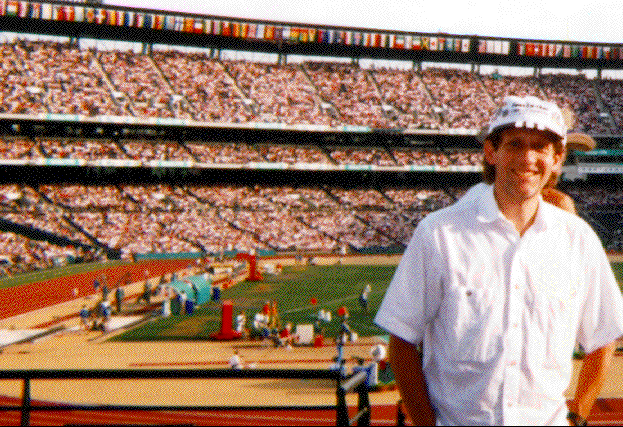 Phillips in 2011: